Find out what your new Subaru can do for you.
As you know, vehicles today are very sophisticated. Many of our customers develop more questions after they have the car for a few weeks. Your new Subaru vehicle is engineered with advanced technology to make sure you're safe, comfortable, and entertained on every drive.
To make sure you're familiar with these features and to personalize them according to your needs, Subaru created the Love-Encore visit. You'll have a one-on-one appointment at Puente Hills Subaru with a Subaru Star Delivery Specialist who will answer any questions you have and help you explore and customize your vehicle's systems.
Schedule your Love-Encore delivery, and receive a
Complimentary Gas Card.
Just a few of the comments from customers
who've experienced a Love-Encore visit:
"Lloyd was really thorough and very friendly and knowledgeable. There was so much covered I know my wife and I will need additional help in the future understanding the system. This has nothing to do with Lloyd, he was amazing. It has to do with the amount of information and our lack of computer savvy."
Gerald Maiques, January 3rd, 2020
"In all the vehicles I've purchased in the past 50 years I have never had a follow up introduction or customer care with a new car. Thank you!"
 Rosemarie Roman, December 12th, 2019
"Lloyd was very professional and knowledgeable. He was patient with me and answered the entire question I had and he was in detail with everything and took his time. I appreciated the service."
 Michael Saenz, December 11th, 2019
Contact your Subaru Star Delivery Specialist to
learn more or schedule a Love-Encore visit.
Lloyd F. Reese

Subaru Star Delivery Specialist Manager - Subaru of America SubeSTAR
lloyd@puentehillssubaru.com
Cell (213) 446-4299 Office (626) 322-2457

Lloyd became a member of the Puente Hills Subaru Family in March of 2013, after a successful and rewarding 30-year career in Pathology & Laboratory Medicine (Study of Diseases), Clinical Chemistry, followed by a gratifying and rewarding 10 years in Entertainment.  Lloyd attributes his patience, discipline, focus and listening skills he acquired working in those careers, has allowed him to utilize those same attributes in his current position as a Subaru Star Delivery Specialist.
Subaru vehicles continue to evolve and become more sophisticated.  Subaru of America recognizes the importance to communicate these advancements to our customers and assist them in understanding and fully utilizing the features and benefits of their new vehicles.  The Subaru Star Delivery Specialist is the "Go to Person", to explain technology to customers before, during and after delivery.  The Subaru Star Delivery Specialist is responsible for answering customer questions regarding technology in the showroom and on the service drive.  
Lloyd is the consummate professional, illustrated in his character, integrity, honesty and work ethics.  His commitment to Sales/Process Focus has been demonstrated and showcased throughout his six-year tenure with Puente Hills Subaru, beginning as a Retails Sales Associate in March of 2013.  Lloyd's positive attitude, perseverance, drive, determination, talent and organizational skills were soon recognized.  In June of 2013, Lloyd was the recipient of the 2013 Subaru of America/Puente Hills Subaru Walk-Around Champion Award.  Also, in August of 2013, Lloyd was promoted to the position of Internet Sales Manager.  In 2014 Lloyd was the recipient of the Puente Hills Subaru Employee of the Year Award.   From 2014 thru 2017, Lloyd focused on Community Involvement utilizing his Degree in Cinema / Television Production, along with his Professional Photography experience.  Integrating photography & videography, Lloyd developed and produced projects for the Puente Hills Subaru Vehicle Website; Used Car Vehicle Inventory (Photography), Community Relations; The Circle of Friends Non-Profit Community Organization (Video Production & Photography), Puente Hills Subaru Employee Portraits (Photography), along with the Thomas J. Doll, Subaru of America President & CEO visit to Puente Hills Subaru, (Photography, Video Slideshow Presentation). 
Read More

d530824e0ab44063a4906e2193a6a1ae
Hear From More Satisfied Customers Who Have Recently Completed a Love-Encore Visit:
"My wife and I were very impressed with Mr. Lloyd's knowledge of our new 2021 Subaru Outback. He explained each of the components of the vehicle and made sure we fully understood the functionality of each of the features on the car. Mr. Lloyd's personality and communication skills were Outstanding. It was a pleasure meeting Mr. Lloyd and Puente Hills Subaru Dealership has a wonderful man leading their LOVE Encore Program."
- David Rojas, July 15th, 2021 
"Mr. Reese is a wonderful representative of Subaru. Arrived three minutes before the designated time, he was already waiting & approached me outside the building. Professionally dressed, courteous and hospitable. We went over the allotted time, but he did not act hurried or inconvenienced. He made learning everything fun, enjoyable & memorable.
- Confidential, July 8th, 2021 
"This was such a great experience! Lloyd was very thorough with the stuff he went over but yet respectful with my time as well. I can't think of anything else that he can do to possibly better my experience with him. Thank you, Lloyd you are an amazing person!"
- Sang Chung, July 8th, 2021 
"The Subaru Love-Encore Delivery Program is extraordinary. Having the opportunity to learn one on one in full detail the Functions, Features, and Driver-Assist Technology in my 2020 Subaru Outback was an amazing experience for me.
First, having the Love-Encore Delivery at my home was Great Customer Service. There simply would have been no way for the salesperson in the initial delivery process, after the sales process to provide such detailed and precise information. Lloyd Reese, Delivery Specialist, took the time to explain what the re-delivery process was all about. He made sure up front that he would be answering specific questions I had regarding the Functions, Features, and Driver-Assist Technology of my 2020 Outback. Make no mistake, it was all about me and my new 2020 Outback. Lloyd listened and responded in a very professional, courteous, and timely manner.
Lloyd was simply "Outstanding", his knowledge, skills, and method of teaching made it easy for me to understand. Lloyd took his time and made sure I fully understood the information being shared. Lloyd was polite, friendly, funny, and sociable, going well beyond what I have ever imagined. He was "Extraordinary", an asset to the Puente Hills Subaru Dealership. Lloyd made me feel "Special", by sharing being part of the Subaru Family, he would always be available, "just a phone call away". I thank Puente Hills Subaru and Subaru of America for the Love-Encore Delivery Program.
Not only did I learn how to Captain my Subaru Outback. I also received a Complementary Gift Gas Card for my time. I can totally see why J.D. Powers and Associates named the Subaru of America Love-Encore Delivery Program one of the best in the country. What a wonderful accolade, and well deserved."
- Confidential, March, 2020
---
Love-Encore Visit Customer Photo Gallery: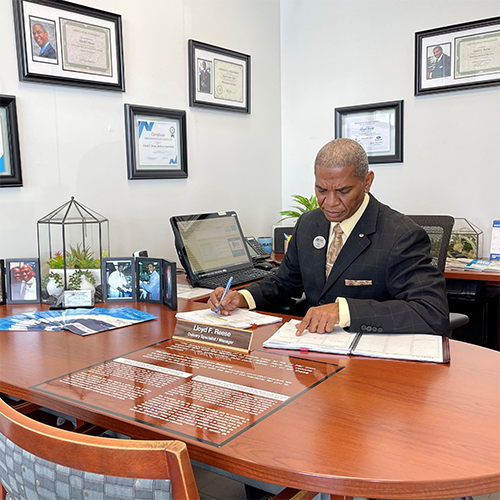 Lloyd F. Reese, Subaru Star Delivery Specialist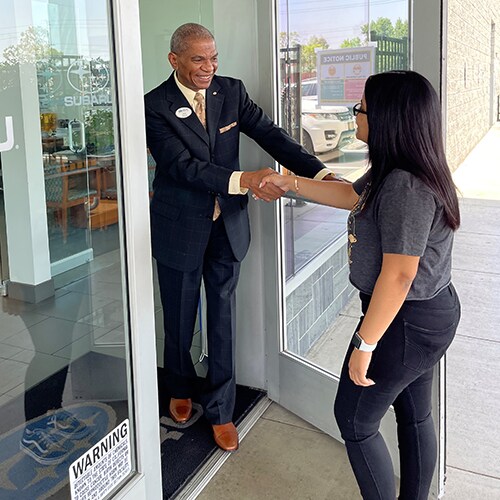 Lloyd Greeting Love Encore Delivery Customer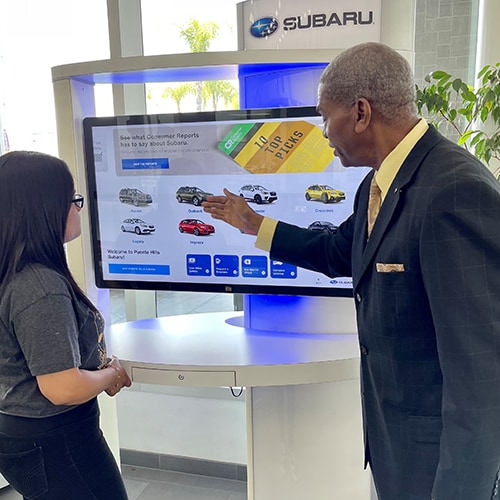 Lloyd Showing Customer Digital Showroom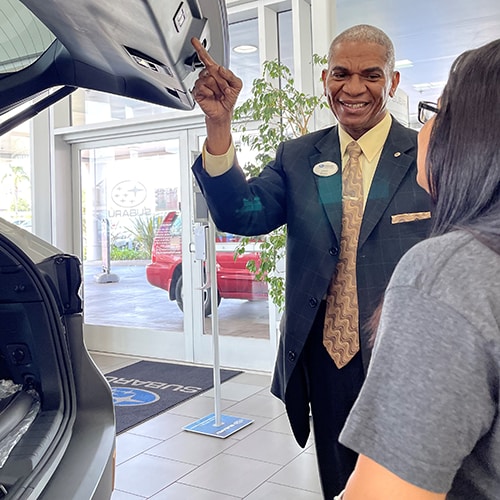 Lloyd explaining PRG Lock Function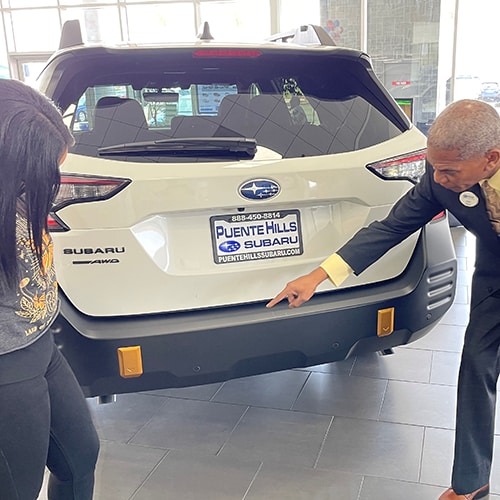 Lloyd explaining RAB Senors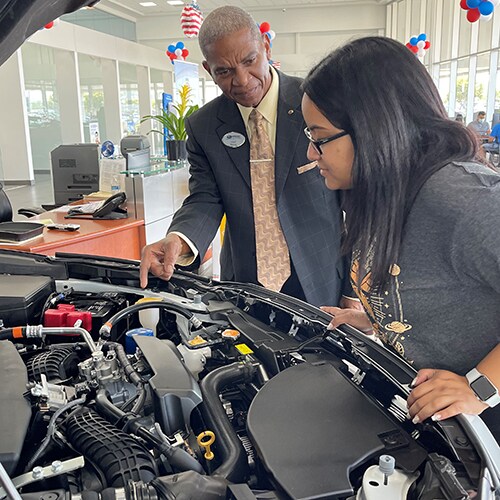 Lloyd showing Outback Wilderness 2.4 Turbocharged Engine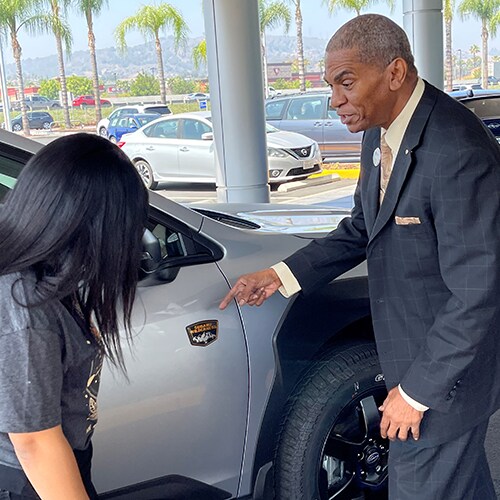 Lloyd sharing information on Outback Wilderness Badging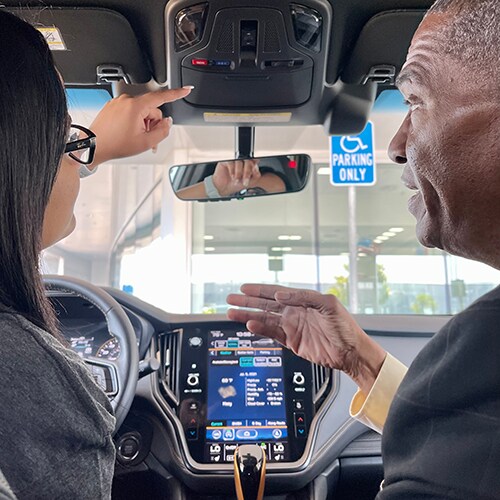 Lloyd sharing information on the StarLink Connected Services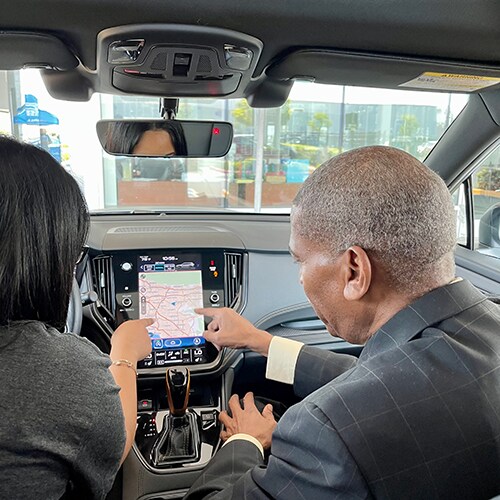 Lloyd sharing information on the Tom Tom Navigation System on the 11.6 CID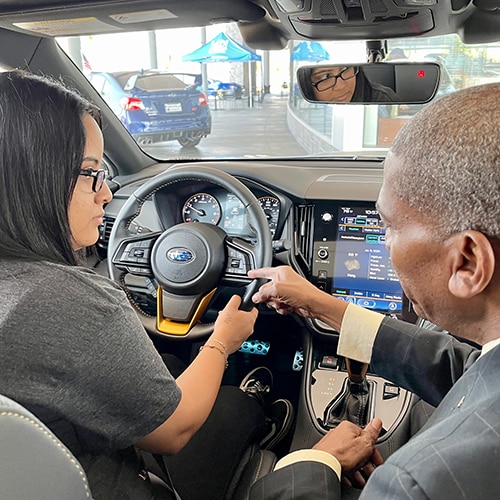 Lloyd Sharing information on the Advanced Adaptive Cruise Control System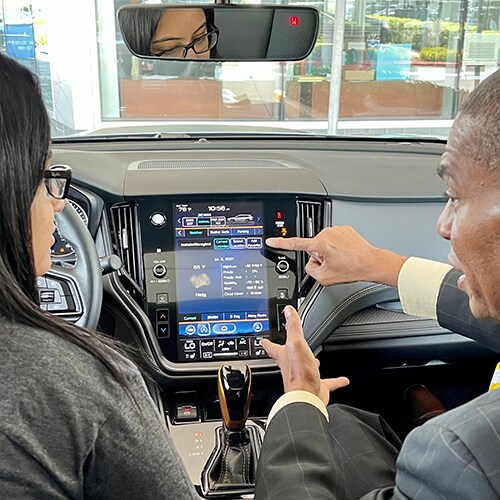 Lloyd sharing information on the TravelLink System on the 11.6 CID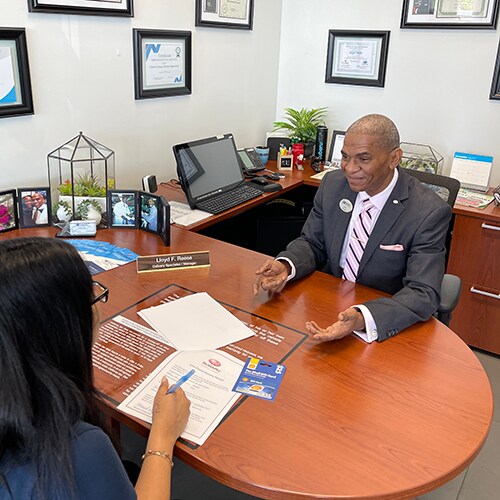 Lloyd's customer signing for free $25 Gift Gas Card
The Subaru Star Delivery Specialist, Your Vehicle Technology Expert.
Once you take ownership of your new Subaru, your Puente Hills Subaru Star Delivery Specialist will schedule a return to the retailer for a Love-Encore visit. This should take place within 14 to 45 days from your original delivery date. This is your opportunity to ask questions about your vehicle's features and functions. With the help of the Star Delivery Specialist, you will be confident understanding how your vehicle's technology enhances your driving experience.
Your specialist will explain and demonstrate how to use the systems seen on the right, plus many more, and set them up to work best for you. You will also learn about SUBARU STARLINK™ connected services and how to enroll. Please note this process may take about 30 to 60 minutes. The Star Delivery Specialist is your go-to contact for all of your technology questions before, during, and after taking ownership.